Altar Servers
Whoever serves, let it be with the strength that God supplies, so that in all things God may be glorified through Jesus Christ.  (I Pet. 4:11)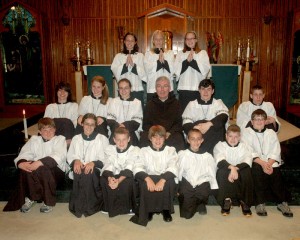 Saint Raphael parish has an active group of altar servers who help carry out the various functions entrusted to them during Masses and on other important liturgical occasions.  Two or more altar servers carry the cross and  and candles during the processional, hold the book for the celebrating priest when he is not at the altar, carry the censer and incense, present the gifts of bread, wine, and water to the priest during the time of preparation (or assist him when he receives the gifts from the people), wash the hands of the priest, and otherwise assist the priest celebrant and deacon during Mass.   A server may also ring a bell as a signal to the faithful.  We have provided a short video on what it means to be an altar server.
Altar Servers must have made their First Communion, must have an understanding of the Mass and must be able to follow the directions and instructions that they are taught.  Our parish considers parental involvement in the program to be important, not only because parents bring their children to the Mass at which they serve but because they provide a home environment that is conducive to a loving and holy life.   Please click on the link below for your day of service.
We also welcome and encourage adult altar servers to serve. If you would like your child to become an altar server, or if you are interested yourself, please contact Kerri Stanley, our Director of Liturgy, at 603-623-2604 or at admin@st-raphael-parish.org.