Profile of the Pastor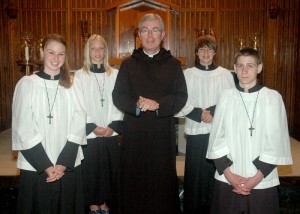 The Rev. Jerome Joseph Day, O.S.B., Ph.D., was installed as pastor in 2002 by the Rt. Rev. Matthew K. Leavy, O.S.B., abbot of Saint Anselm Abbey, on behalf of the Most Rev. John B. McCormack, bishop of Manchester.             
 A native of North Adams, MA, Father Jerome was born Sept. 4, 1953, the son of the late Charles F. and J. Marjorie (Costello) Day. He and his family were active in the former Saint Francis of Assisi Parish, North Adams. He was educated at Saint Joseph elementary and regional high schools in North Adams and received his diploma in 1971. He entered Saint Anselm College, Manchester, NH, and received his B.A. degree summa cum laude in English in 1975. After a stint as an English teacher at Pinkerton Academy, Derry, NH, and as a reporter for his hometown newspaper, he pursued graduate studies at University College Dublin in Ireland from 1977 to 1978, when he received his M.A. degree with honors in Anglo-Irish Studies.
From journalist to monk, priest, professor and pastor
Upon returning to the U.S., Father Jerome taught high school English briefly in Massachusetts and Vermont, then in 1980 rejoined his hometown daily, The North Adams Transcript, where he served as a reporter, city editor and editorialist. In 1983, he was named the top newsroom executive, managing editor – the youngest in Massachusetts at that time. In 1986, Father Jerome became editorial director of The Lowell Sun in Lowell, MA. He also has written and edited for The Berkshire Eagle in Pittsfield, MA, The Greenfield (MA) Recorder in Greenfield, MA, and The New Haven (CT) Register organization. During the 1980s, he also served as a correspondent for The Boston Globe and taught English part-time at North Adams State College (now Massachusetts College of the Liberal Arts) and Williams College. He has received a number of journalistic awards from New England press organizations.
Father Jerome entered Saint Anselm Abbey as a novice in 1989, and, after a year of study, prayer and reflection under the direction of the Rev. Placidus H. Riley, O.S.B., his novice master, he professed simple vows in 1990. He professed solemn, or lifelong vows, of conversatio morum ("conversion of manners," understood to include poverty and chastity), obedience and stability, on Nov. 21, 1993, on the Solemnity of Christ the King. Following studies for the Roman Catholic priesthood at Saint John's Seminary, Boston, he received a M.A. degree with honors in dogmatic theology. Father Jerome was ordained a deacon in 1994. On June 3, 1995, the vigil of Pentecost, he was ordained a priest in the abbey church by the Most Rev. Joseph J. Gerry, O.S.B., bishop of Portland, Maine, and former abbot of Saint Anselm.
Graduate studies in Montreal and Dublin
In 1997, Father Jerome began doctoral studies in communication at McGill University in Montreal, Quebec in Canada. As part of his research on the evolution of the literary and dramatic representation of the Irish Famine (1845-1850), he returned to Ireland, where he earned a M.Phil. degree in Irish theater studies at Trinity College Dublin. He received his Ph.D. from McGill in 2001. His dissertation, under the direction of Professor Gertrude (Joch) Robinson, is titled The Uses of Hunger: A Study of Famine Discourse in Irish Literary and Dramatic Texts from 1845 to 2000.
Father Jerome teaches part time in the Department of English at Saint Anselm College. He is the director of the communication minor program, serves as faculty adviser to The Saint Anselm Crier, the student paper, and is adviser to the Irish Club. He served for a number of years on the college Governing Board and the monastic Council of Seniors. With the adoption of joint lay and monastic governance and the establishment this year of a new Board of Trustees at Saint Anselm, Father Jerome was elected to the new body first for a two-year term, then for a subsequent three-year. Academically, he participates in the American Conference for Irish Studies, the Canadian Association for Irish Studies, the International Association for Irish Studies, the College Media Advisers Association and the Nineteenth Century Studies Association. He serves on the advisory boards of Saint Joseph Regional Junior High School and Saint Benedict Academy, both in Manchester, and was a founding member of the Advisory Board of Parable magazine of the Diocese of Manchester. He also teaches New Testament studies in the diocesan "Called to Servant Leadership Program."
Father Jerome's sister, Katherine Ann (Day) Corriveau, died in 2011. She is survived by her husband, Paul, who lives in North Adams. Their four daughters are grown with families of their own.